Before sending invitations to customers, it's a good idea to see the view the customer will have by logging into the Self-Service Portal as the customer. See details on how to send portal invitations here.
Create or find your Personal record contact in CRM. Change it to the customer's organization you want test or review.
Sign into your Self service portal using your Office 365 credentials
You will see you are logged into the portal as the customer you want to impersonate. You will see all the records related to the Account.
Make sure your contact has the correct web roles to see the Work 365 menu items in the portal.
Note: The "Manage Licenses" page on the portal will not show the end users licenses. This is because licenses are tied to the email ID of the user credentials used to log into the portal. Instead the user logged into the portal will see the licenses tied to their own email ID. Refer to End User Managing Licenses on the portal for more information.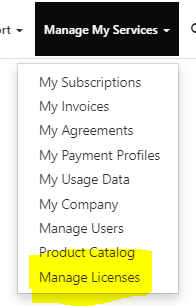 When you are done, be sure to change the Account name back on the contact record.